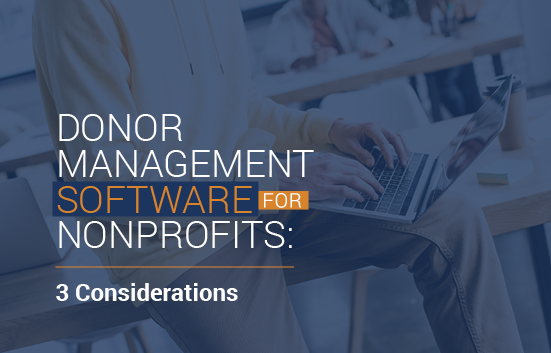 By
Grassroots Unwired
In today's landscape, advancements in technology for nonprofits are constantly offering new and different ways to help charitable organizations succeed. With so many options out there, it's important not to forget about the foundational software upon which the rest of your tech stack should be built: donor management software. 
If that doesn't sound familiar, it's probably because you've heard donor management software referred to by one of its other names—maybe "nonprofit CRM" or "donor database." They all refer to the same tool: the platform that serves as your directory for donor data and the hub through which you interact with donors.  
Here at GivingMail, we design and implement direct mail fundraising campaigns for organizations big and small, so we're well-acquainted with nonprofits' need to keep track of their donors' information for fundraising purposes. 
Over the years, we've learned a thing or two about nonprofit database software. And we can tell you this: the best donor management software providers have three things in common. They increase donor retention rates, facilitate peer-to-peer fundraising, and produce valuable data metrics for your organization.
Whether you're reexamining your current CRM provider or are thinking about making the initial investment, you should keep these considerations in mind. A good CRM should: 
Improve donor retention rates.

Equip peer-to-peer fundraisers with easy-to-use tools.

Collect and analyze invaluable data insights.
Finding a software solution that performs these three functions will serve your organization well into the future! Let's get started. 
1. Improve donor/participant retention rates
It's well-known in the nonprofit industry that fundraising is all about building relationships. It's true: the more you can develop relationships with supporters, the more likely they are to donate, and then the more likely they are to continue contributing to your organization. 
A good CRM provides you with what you need to develop deep, lasting relationships with supporters. 
It all starts with storing information. The most basic information a CRM can track is contact details and demographic information. At a minimum, your donor database should include your donors' names, emails, phone numbers, and home addresses. In addition to basic fields like these, you may want a CRM that allows you to create custom fields for data points that are of special interest to your organization. 
As we mentioned earlier, storing your donors' contact information and demographic details ensures that you'll be able to get in touch with them on a recurring basis, whether it's to reach out with a fundraising appeal or to tell them about your next event. 
The next tier of information a CRM can store is interaction information like past giving history, event attendance, and volunteer efforts. Both demographic information and interaction details are useful to inform your marketing efforts—which includes reaching out to thank supporters for donations, making fundraising appeals, and offering ways to get involved. 
You can use different channels like these to carry out your marketing efforts with the information from your CRM: 
Direct mail.

While direct mail may be considered "traditional," mail appeals are an effective way to target your donors for fundraising. Make sure to follow best practices for writing fundraising letters, and check out our

GivingMail Guide to Direct Mail Appeals

if you need some tips. 

Email.

Email is an extremely popular way for nonprofits to keep in touch with their donors. CRMs often have email marketing features, which automatically populate fundraising emails with donors' details and allow you to send a vast amount of personalized emails at once. 
Because your CRM allows you to design email marketing campaigns, you can schedule out emails ahead of time and designate automated email responses to make sure you never miss a touchpoint. If you need a marketing boost in the form of a software tool, Double the Donation's list of top nonprofit marketing software can point you in the right direction. 
One of the biggest perks of a CRM for your marketing efforts is that most solutions allow you to divide your donor database into groups—a process known as donor segmentation. This allows you to isolate donors with certain common features and tailor your marketing efforts to them specifically. For example, you could have lists that separate donors by:
The ability to tailor your communications prevents your efforts from reading as canned letters and increases their likelihood of success. Plus, as explained in this guide, donor segmentation can help you locate donors at risk of lapsing and reach out to them before that happens. 
Plus, the automation capabilities of a CRM also make sure that your donors never go unnoticed for donating their time or funds to your organization. Donor recognition is an essential part of retaining donors year-over-year, and without automated thank-you messages, it's possible your donor recognition efforts will slip through the cracks.  
Automated thank-you emails, letters, surveys, and follow-up conversations ensure that your donors feel appreciated and stay engaged. Keeping in regular contact with newsletters, email drip campaigns, and information about upcoming opportunities will make sure your donors never lose interest in your organization, and a CRM is essential to make sure of these things.
2. Equip peer-to-peer fundraisers with easy-to-use tools
With the rise of social media, peer-to-peer fundraising is an increasingly popular and effective strategy for garnering support for your organization. 
Peer-to-peer fundraising means your supporters can create individual fundraising pages for your nonprofit in order to track their own progress at soliciting donations. A CRM should be able to seamlessly integrate with your peer-to-peer fundraising tools, so both donors and fundraisers can play their parts with ease. 
Customizable donation pages for each person who shares the link allow supporters to take ownership over your cause and makes fundraising more engaging. Through your CRM, you should be able to fill out a template that includes room for the following fields: 
A call-to-action

like a "Donate Now" button that leads to your donation page 

The mission of the campaign

so your audience knows exactly what they'd be contributing to with a donation 

Branded images

including your nonprofit's name and logo to ensure consistency and clearly identify the beneficiary of the fundraiser  

A gamification tool

like a thermometer or fundraiser leaderboard that shows how close the fundraiser is to meeting its goal
With the right CRM, all of the data from your peer-to-peer fundraising campaigns can be tracked and organized with the rest of your donors' information, so you can be sure to harness all the data from your nonprofit's fundraising efforts for your future endeavors. 
3. Collect and analyze invaluable data insights
Speaking of harnessing data from your donors' interactions, the data stored in your CRM holds some of the most important information you could have about your organization. If your system contains a complete history of donor interactions, that means you have all sorts of intelligence about donation trends, effective fundraising strategies, and opportunities for growth. 
But without a good way to analyze that data, it's not of very much use to you. That's why CRMs often have data analysis and reporting features built-in, so you can easily access insights about your organization. 
Most nonprofit databases automatically collect and report the most common nonprofit fundraising metrics. However,  you can also customize the metrics your CRM tracks and develop your own reports and dashboards based on the analytics that your organization values most. 
Some of the most commonly tracked KPIs (key performance indicators) for nonprofits are: 
Fundraising ROI:

This metric is a measurement of the effectiveness of a given fundraising campaign in terms of dollars spent and dollars raised. Fundraising ROI, or return on investment, tells you how much you earned per dollar spent on the campaign, which can inform the most cost-effective approaches to continue using going forward. 
Cost-per-dollar-raised

: Similar to ROI, this KPI tells you how much you

spent

per dollar

earned

at a given fundraiser or over a given time period. Along with ROI, CPDR can help you determine what your most effective fundraising strategies have been in the past and inform

your nonprofit's budget

for next year. 
Donor retention rate

: This metric tells you the percentage of last year's donors who also gave this year. Donor retention is essential to a sustainable fundraising strategy because the cost of acquiring new donors is high. Thus, knowing where your donor retention rate stands can tell you if you need to improve your donor recognition efforts and follow-up strategies. 

Conversion rate

: This KPI reflects the percentage of supporters who complete a desired action, like donating or signing up to volunteer, after they've been exposed to the opportunity. 
A CRM allows you to easily see which aspects of your fundraising strategies are doing well and which areas leave room for improvement. When planning for your future efforts, these data points are essential to provide evidence for pursuing one strategy over another.
---
Whether you're considering investing in a CRM for the first time or looking for a new provider, these points are important to keep in mind when making your decision. There are many compelling reasons to take advantage of a CRM for data management. When choosing a provider, make sure you investigate the specific product's track record with donor retention, integrations with peer-to-peer platforms, and data analysis and reporting capabilities.
If you keep an eye on all of these areas, you'll cover all your bases and end up with a CRM for your organization that boosts fundraising and helps you reach more donors over time. Good luck! 
Good luck!
---
About the Author
Grant Cobb is a fundraising specialist with over 6 years of experience in the nonprofit space. Currently the head of marketing and analytics at GivingMail, he is a huge proponent of data-driven decision making and the push to bring high-level analytics and fundraising to all.