Nearest Polling Location Feature:
Picture this: you're canvassing and you've got a voter that's passionate about voting. They've signed your pledge to vote card. What's the next call to action? Whether or not your state allows for early voting, letting your voters know exactly where they can vote might be the very last piece of the GOTV puzzle.
Our Nearest Location tool lets your canvassers drop a pin, or use your current GPS location to show a voter where the nearest polling place, early voting location, or ballot drop-off location is. After showing the voter where they need to go, our platform can automatically text or email the information in real-time!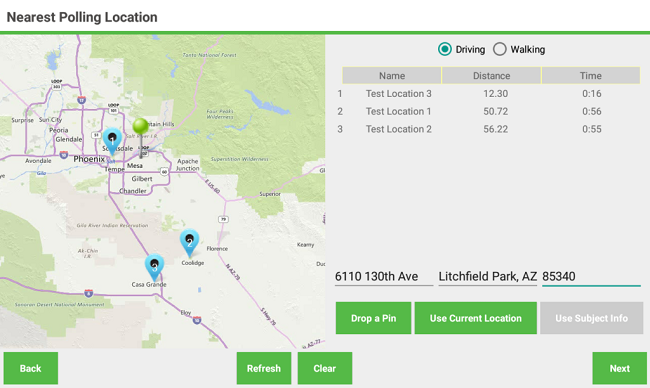 Take the Pledge:
Are your canvassers walking door to door with multiple devices AND paper to complete this year's GOTV activities? At Grassroots Unwired, we believe that technology should simplify your work, not complicate it. That's why we offer a platform that completely eliminates the need for paper or multiple software platforms for your canvassers.
Grassroots Unwired takes your GOTV to the next level by:
Capturing signatures on digital pledge cards

Verifying mobile numbers and emails for follow up  

Connecting to P2P Texting for SMS campaigns and future calls to action
Contact Info Validation and Real-Time Outreach:
When your volunteers are having a face-to-face conversation with a potential voter, it may be your only chance to capture the voters imperative contact information. When contact information is submitted via the Grassroots Unwired app, we validate the email address and phone number in real-time and will notify the volunteer if the information entered is invalid. A SMS and/or email can campaign can then be instantly initiated through our platform allowing for seamless outreach leading up to election day. Additionally, all contact information collected during the interaction will be integrated right in to your CRM. Click here to read more about our integrations.  
Voter Registration:
Up until recently, Voter Registration required an army of people to stand in front of crowded supermarkets, attend busy festivals, or clamor on busy street corners to get voters registered. This involved a clipboard, a pen, and typically, a person with a loud voice.  Some states still require a loud voice to register voters, but other states  are beginning to turn to online solutions and digital signatures. As a result, Grassroots Unwired has developed a proprietary system that allows us to create an interactive mobile version of the States Voter Registration form. Now the soon to be registered voter simply has to plug their information into the form on the tablet, and with one click, submit to their state.