The key to creating societal change today is advocacy. Speaking up on behalf of a group that is directly affected by an issue happens at all levels, but the most important influences often begin at the grassroots level, through community advocacy campaigns.
For advocacy groups, your efforts help spread awareness of your mission and inspire your supporters to take action. Mobilizing as many people as possible for the greatest impact will likely be a challenge for your organization at first, but there are specialized software solutions available that can help with your advocacy efforts.
To choose the right advocacy software for your organization, you'll need to research solutions that offer a range of features that fit your needs while fitting into your nonprofit's budget. In this guide, we'll help you get started in your research by covering these topics:
At Grassroots Unwired, we believe that organizations of all sizes can make a difference by using digital advocacy tools to inspire change at the grassroots level. Our mobile-first, customizable solutions have enabled nonprofits and political organizations to gain supporters and donors through canvassing, events, and other advocacy efforts. In our years of experience, we've also gotten to know a range of software providers in the advocacy space. Let's dive in!
What is advocacy software?
Advocacy allows organizations to raise awareness of issues that affect the communities they serve, especially those that relate to your mission. Effective nonprofit advocacy also involves encouraging supporters and other community members to take action. Advocacy software, therefore, helps your organization to educate and mobilize supporters for civic action and engagement.
Your organization can use an advocacy software solution in conjunction with your other marketing channels, like your website, email, and social media, to draw your supporters' attention to an issue and distribute educational materials.
Once you've spread awareness, you can use specialized advocacy tools to aid your efforts, including:
Providing email templates for supporters to send to policymakers.
Tracking the results of surveys and canvassing efforts.
Collecting secure donations toward your cause.
Capturing e-signatures on petitions.
Organizing participants' contact information to streamline future outreach efforts.
A mobile-first platform will be especially helpful for many of these activities, since your volunteers can easily carry a smartphone or tablet as they go out into their communities to start conversations about your cause. Supporters will also be able to interact with your campaign at any time and in any location. This versatility allows your nonprofit to expand its reach further and make a greater impact.

Why use grassroots advocacy software?
Historically, grassroots advocacy work involved volunteers going out with clipboards, writing down names and phone numbers of interested supporters in their communities, and returning to their organization to input data manually. This process would often take hours, and volunteers could easily make mistakes.
But now, with innovative advocacy software, volunteers can go out armed with mobile devices, which effectively eliminate the barriers to building a solid donor or advocacy list. People can enter their information onto the devices, their email addresses will be instantly verified, and their information will be sent to a safe, comprehensive database. The process works much more quickly, and fewer costly mistakes are made.
Advocacy itself has changed over time as well. Face-to-face conversations still have high value when it comes to galvanizing support for a cause. But the rise of digital communication has brought new forms of advocacy to the forefront, such as:
Organizing protests online
Emailing policymakers
Signing digital petitions
Posting socio-political perspectives on social media
Using specialized software to aid your organization's advocacy will help you to stay on top of trends in the field and communicate with more supporters through the communication channels they'll be most receptive to.

What features should you look for in a digital advocacy tool?
Ultimately, the advocacy software you choose will need to fit the unique needs of your organization and be easy for your staff, volunteers, and supporters to use. When researching software solutions for any organization, though, we recommend prioritizing these five features: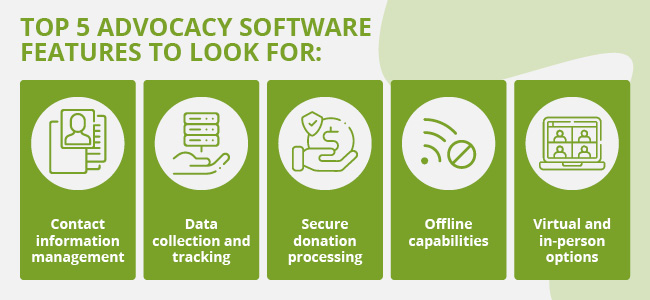 Contact information management: In any outreach program, communication is key. Your advocacy software should be able to collect and track contact information accurately. It should also have an automated communication feature that you can use to send immediate follow-up texts or emails to supporters.
Data collection and tracking: Eliminating data entry is a huge time and money saver in any advocacy campaign. Look for software that will store the data you collect in one place or send it back to your CRM, allowing you to analyze it easily to determine what aspects of your campaign are working well and what could be improved.
Secure donation processing: When supporters see your educational materials or have conversations with your volunteers, some will likely want to donate directly to your advocacy campaign. Use software that has this ability to ensure you don't miss a donation opportunity.
Offline capabilities: Your software should work at all times when your volunteers are out in the field. In the event that they go to an area with low connectivity or a supporter's internet connection fails, a software solution that works offline won't slow your campaign down.
Virtual and in-person options: Although face-to-face conversations have proven most effective for mobilizing supporters in advocacy campaigns, virtual canvassing has recently become popular. You'll get more participation in your campaign if your software can reach supporters both digitally and in-person.
Having these features in your software solution will benefit most advocacy campaigns, but your exact needs will vary based on the size, purpose, and goals of your individual nonprofit. So, it's important to weigh the benefits of several software options to decide which one is right for your organization.

The 14 best advocacy software solutions
With all the provider and feature options out there, choosing the right online advocacy software platform for your organization can be overwhelming. We know how important it is to find a provider that fits your nonprofit's needs while also remaining within your budget. Luckily, there are a variety of unique advocacy software solutions out there that offer great features at affordable prices.
To get your research started, take a look at our favorite advocacy software platforms for nonprofits:
Top Overall Advocacy Software: Grassroots Unwired
Grassroots Unwired offers dynamic advocacy and canvassing tools for nonprofits, progressive political campaigns, and labor unions. This product is built on the philosophy that mobile-first technology can power the greater good.
With innovative in-person and virtual solutions, Grassroots Unwired has all the features your organization needs to create a successful foundation for messaging or fundraising.
Best features of this digital advocacy tool
The Grassroots and Legislative Advocacy App by Grassroots Unwired brings formerly web-based activities into a mobile environment. The platform enables your organization to:
Collect survey responses and enter data instantly.
Send emails about specific policy issues to legislators.
Collect and track secure donations towards your cause.
Capture e-signatures.
Enter supporters' cell phone numbers and immediately save them to the Upland Mobile Messaging platform (which integrates seamlessly with the app) for future outreach.
In addition to all these functions, Grassroots Unwired's solution continues to work even when offline. If your volunteers go into areas with low internet connectivity, they won't have to worry about losing valuable data.
Why this advocacy software stands out
Grassroots Unwired is an end-to-end advocacy platform that can help you execute your entire campaign. These tools can handle virtual and mobile canvassing, donation and data tracking, canvasser and turf management, and much more. Grassroots Unwired offers a direct point of contact for any and all support needs and competitive pricing, in addition to a tailored, out-of-the-box solution.
Best advocacy software for online petitions: SalsaEngage

SalsaLabs' advocacy tool, SalsaEngage, will help your organization educate and mobilize supporters through various communication channels. Its email marketing features will help you spread the word about your advocacy campaigns, and you can create and send out custom registration forms for events.
SalsaEngage's main purpose, though, is to create online petitions. When you send a petition to your supporters, they'll be able to support your cause with just one click. SalsaEngage will automatically follow up with your new advocates via email, and their contact information will be immediately sent to the Salsa CRM software if you use the streamlined integration.
Best features of this digital advocacy tool
Building online petitions
Sending targeted email messages
Powering fundraising efforts through online donation tools
Pricing
Contact SalsaLabs to learn more about pricing for their products.
Best peer-to-peer advocacy software: Mobilize
Mobilize is an event management and volunteer recruitment platform empowering mission-driven organizations to reach more supporters than ever before. Nonprofits, labor unions, and political campaigns of all sizes have raised awareness, recruited volunteers, and organized events using the Mobilize platform.
Mobilize also has a peer-to-peer component, allowing volunteers to create custom calls to action that they can send to their friends and family. A personal referral from someone close to a potential donor makes your cause appear more credible, inspiring further action in addition to raising awareness.
Best features of this digital advocacy tool
Easy event creation
Automated text and email communications
Peer-to-peer recruiting
Pricing
Contact Mobilize to learn more about pricing for their products.
Best all-in-one advocacy software: CharityEngine

CharityEngine is a CRM that comes with built-in advocacy software. This all-in-one software makes it easy to streamline data from the field back into your long-term donor management system. This allows you to leverage the information you collect for future outreach.
CharityEngine also provides your organization with advocacy tools for federal, state, and local levels of government, in addition to fundraising features.
Best features of this digital advocacy tool
All in one CRM
Online fundraising collection and tracking
Monthly gifts and billing capabilities
Pricing
CharityEngine has a variety of pricing packages and add-on options listed on their website.
Best fully customizable advocacy software: MobileAction! by DNL OmniMedia
MobileAction! gives advocacy organizations and fundraising teams all of the tools they need to engage with supporters on the go. This solution is full-service advocacy software delivered straight to your supporters at any time and in any place.
What makes MoblieAction! stand out is how it's tailor-made for each organization. DNL OmniMedia will configure an app to your specific needs, so you can easily implement the solution and make adjustments as needed.
Best features of this digital advocacy tool
Targeted action alerts
Peer-to-peer fundraising pages
Survey design
Pricing
Since each MobileAction! solution is custom-made, you'll need to contact DNL OmniMedia to discuss project pricing.
Best data-driven advocacy software: NationBuilder
With NationBuilder, you can grow your advocacy efforts by developing data-driven outreach and engagement strategies. NationBuilder's software provides tools to segment and map your supporter list, create supporter cultivation plans, and track data to help you hone your efforts.
Best features of this digital advocacy tool
Supporter segmentation
Goal-setting and tracking tools
Free trial period for all pricing plans
Pricing
NationBuilder's pricing plans start at $34 per month for an annual subscription.
Best advocacy software for contacting policymakers: RAP Index
RAP Index is built on the understanding that legislators receive hundreds of constituent emails every day. In order to make your cause stand out, you'll need to take a more personal approach, which they'll help you to design. Their software can empower your organization to engage officials in a more strategic way using your existing supporter network.
Best features of this digital advocacy tool
Identification of existing personal relationships between your supporters and elected officials via an easy-to-use dashboard
Individualized outreach to leverage those connections
Targeted, automated communications sent to supporters and policymakers
Pricing
Contact RAP Index to get a quote for your organization.
Best PAC advocacy software: Cision
Cision offers government relations software that's perfectly suited to political advocacy organizations. With their supporter database and integrated marketing and advocacy tools, Cision helps you target the right supporters for your cause and then engage them effectively.
Cision's grassroots solutions feature outreach tools designed to keep your supporters informed on the most important elements of your mission. They also have helpful data tracking features, especially when it comes to political fundraising
Best features of this digital advocacy tool
Monitor your fundraising progress
Generate comprehensive reports in minutes
Use their built-in mail merge features, email templates, and social media management tools to control your message on all fronts
Pricing
Cision offers a wide range of pricing packages. See their pricing page or contact their sales team for more information.
Best user-friendly advocacy software: Bloomerang

Bloomerang is a nonprofit CRM with built-in advocacy features that can enhance your grassroots campaign. Nonprofits can use Bloomerang to collect and use supporter data to develop strategies that result in action, whether you're raising money for your cause, organizing an advocacy event, or delivering real-time updates to supporters via email and social media.
For being such a high-powered software, Bloomerang boasts a high level of user-friendliness. If you have multiple team members engaging with your advocacy strategies, you won't have to worry about in-depth training or confusing documentation.
Best features of this digital advocacy tool
Nonprofit CRM combined with advocacy features
Online giving forms
Social media monitoring
Pricing
Bloomerang's pricing begins at $99 per month and is based on the number of donor records your organization stores.
Best advocacy software for member-based organizations: Votility by DonorPerfect

DonorPerfect's advocacy software, Votility, equips nonprofits and membership organizations with the tools to mobilize supporters and enact change starting from the grassroots level. Votility allows organizations to run public-facing or private campaigns centered around specific legislative actions, which can be easily shared on social media. They also make it simple to send member responses to policymakers.
Votility is only one aspect of DonorPerfect's fundraising and constituent engagement solution. All of their advocacy features integrate seamlessly with a scalable donor management system that allows you to connect to your supporters comprehensively.
Best features of this digital advocacy tool
Running grassroots campaigns with any goal in mind
Promoting policies, gathering supporter feedback, and posting bills on social media
Creating dashboard reports to share with elected officials
Pricing
Votility encourages nonprofits to schedule a demo in order to discuss pricing.
Best advocacy software Salesforce integration: Soapbox Engage
Soapbox Engage's advocacy software can help you streamline your campaign from start to finish. With a suite of apps designed to work together seamlessly, their tools can take your advocacy work to the next level. Their advocacy app, in particular, will help you generate custom automatic emails while creating contact lists to organize message blasts.
One appealing feature of Soapbox Engage apps is that they integrate with Salesforce. You can save all of your transactions to Salesforce, allowing you to spend less time on data entry and ensure your donor and advocate profiles are completely up-to-date.
Best features of this digital advocacy tool
Mobile-friendly website templates
Variety of apps for specific functions like donations and petitions
Streamlined integration with Salesforce
Pricing
Since they provide a discount for nonprofits, Soapbox Engage apps start at $49 per month, with a higher-cost unlimited plan providing more access.
Best low-cost advocacy software: The Action Network
The Action Network was designed for organizers by organizers. They understand all that goes into rallying advocacy for a cause, so they'll help you do so with their intuitive online toolkit.
With The Action Network's online advocacy software, you can make all your forms mobile-friendly, allowing you to sign up supporters and collect donations from anywhere. They also have a text-to-take-action feature that supporters can use to sign petitions and register for events in seconds.
Best features of this digital advocacy tool
Built-in mass email equipped with targeting and deliverability
One-click email and text donations
Federated tools for chaptered organizing
Pricing
Action Network starts at just $10 per month!
Best streamlined advocacy software: EveryAction

With EveryAction's one-step advocacy tools, you can easily convert supporters into donors and grow your donor base by simplifying the process of sending emails, posting on social media, and promoting click-to-call advocacy.
EveryAction will also draw supporters' information from your online advocacy forms so you don't waste time creating yet another email list. Their experts make sure your emails don't end up in supporters' spam or junk folders using automatic retry mechanisms, so you can rest assured that your supporters will see your messages.
Best features of this digital advocacy tool
Email and comment templates to send to policymakers or government agencies
Simple, customizable online forms for social media advocacy pushes
Click-to-call embedded forms for your website
Pricing
While some of EveryAction's resources are free, their services are priced contractually and are personalized for each organization.
Best advocacy software for branded marketing: Ujoin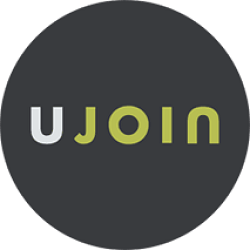 Ujoin creates branded, mobile-optimized action pages for targeted email, Twitter, and click-to-call actions. It integrates with your organization's social media accounts and has a legislation tracking dashboard that can be displayed on any website.
Best features of this digital advocacy tool
Reach out to decision-makers at all levels of influence
Brand your own mobile-friendly action pages
Integrate with other apps, including social media sites
Pricing
Ujoin has a variety of pricing packages, including a free option, set monthly payment plans, and personalized quotes.
Advocacy software: The bottom line
Advocacy software allows you to focus on your mission while eliminating points of frustration for staff members like data entry, low fundraising numbers, or disorderly event planning. Choosing the right solution for your organization involves weighing the benefits of several options and finding one that fits your budget. The process can seem overwhelming, but it doesn't have to be.
Check out these additional resources for more information on advocacy and technology: