Lung Cancer Alliance commits each year to hosting Love Lung Run/Walks. These events generate awareness and funds to help support and unite those who are affected by lung cancer.
Project Brief:
Lung Cancer Alliance needed a more efficient way to facilitate their day-of activities such as: day-of check-ins, registrations, merchandise sales and donations with a goal of eliminating tedious data entry post event.
The Challenge:
Lung Cancer Alliance needed a mobile solution to:
Collect registrations and donations and sync back to

Luminate™

Monitor and track the number of registered participants checked-in on race day

Track and report on all financial transactions (cash, check, and credit card)

Quickly check-in already registered participants and if applicable scan their participant barcode for a seamless check-in

Allow participants to purchase merchandise

Allow for a walk-up group/family to register the day-of as a team and checkout together with one payment method
The Solution:
Grassroots Unwired was able to design and implement a customized mobile platform on behalf Lung Cancer Alliance that: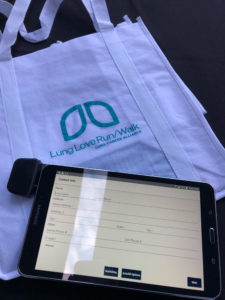 Allowed volunteers to register walk-up new registrants, check-in a pre-registered participants, and process day of donations and merch sales all within the app

Eliminated end of day data entry

Enabled Lung Cancer Alliance's' volunteers to assign bib numbers to individuals at check-in within the app

Tracked and reported on all financial transactions (cash, check, and credit card)

Automatically generated barcodes for all registered participants within a desired time frame, allowing Lung Cancer Alliance the option to send an email via Luminate to all participants that contained this unique participant barcode. If a participant then showed their barcode the day of the event, the GRU app would read the barcode, quickly pull up the participant on the mobile device, and give the volunteer the option to immediately check-in this individual.